7 minute Read
"Bling Bling, what? Bling Bling, huh, where the hell? I peeled back the covers from my face and was greeted with the inside of a dark tent. The wind was screaming in the tree tops, and I felt the cold air hit my face. I opened my phone and saw the time. 5:00 am."
Jackie and I jumped in the Jimmy, got comfy and headed South from St. Cloud towards our destination. The car was filled with blankets, food, climbing gear and camera equipment (what else do you need?). As we traveled towards Blue Mounds State Park, we watched as the landscape was transformed into a golden prairie. Check that, actually I watched the scenery change as Jackie got caught up on some much-needed rest. That's how she rolls.
We arrived and set up camp. "Time to start the adventure". We had a beautiful November day of nearly 55 degrees and sunshine to boot! As you walk along the prairie, you come up to an abrupt ridgeline of beautiful rock formations. What a juxtaposition from the rolling prairies. Not only is it eye candy, but also clime-able! It always takes a few hours to wash away the dirt from the city and become fully encompassed in our surroundings. As we explored possible climbs and photo locations, we both started to feel more at ease. Time wasn't so important. The only way we watched the time was by the sun and the horizon.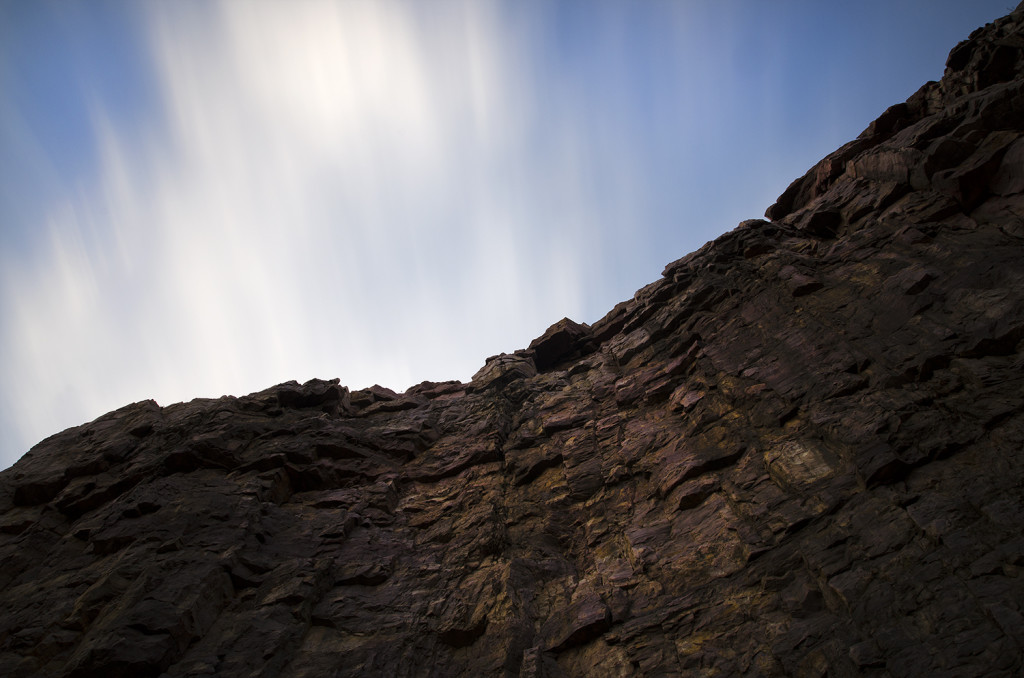 I held my arm out straight with my fingers in front of my face. 4 fingers high = one hour (thanks Peter Lik). It looks like we have about an hour and a half before sunset. Time to nail down a good sunset location.
The reason I love landscape photography so much is the intimate setting with the changing light. As the sun begins to set, the landscapes become transformed by light. I chose this day to shoot with the sunset at my back. Now we wait for the sun to go to bed. This would create richer colors in the rocks with less contrast between sky and earth. As usual, we were not disappointed. One thing I have learned is that once the sun rests in the West you should stick around for at least 45 minutes after in case you get a burst of color. As the sun goes further beneath the horizon, the colors in the clouds will begin to change creating some spectacular images. I have learned this lesson the hard way. How may times have I shot the sunset, packed up and watched as the sky transformed into a painting as I was driving home (DOH)! Never again will I make that mistake.
Now that the sun has set it is time for some Stimulight action! Jackie and I broke out the light painting paraphernalia and got busy. (More images here.)
The wind started to pick up, so Jackie and I cooked up some warm grub and hit the sack.
Bling Bling, what? Bling Bling, huh, where the hell? I peeled back the covers from my face and was greeted with the inside of a dark tent. The wind was screaming in the tree tops, and I felt the cold air hit my face. I opened my phone and saw the time. 5:00 am. This is about the time the inner dialog begins, and I start to think of all the reasons to stay in bed, but I know better. There could be something great out there. GET UP! I pull the blankets back, tuck Jackie in, and put on pounds of clothes. I grabbed my gear and began my walk through the woods. Nothing like tripping over everything in your path while dragging along your sleepy legs to start off your day. I found the stream that I had located the day before and started to compose a shot. By this time there was light in the sky although confirming my fears, the sky was a complete blanket of grey clouds. SUNRISE KILLER! Time to make the best of it. I composed a shot and made a couple of uninspiring exposures. I started walking around to look for something interesting when I noticed a bit of color in the sky. There is still hope! I ran back, recomposed my shot and was greeted with the most beautiful colored sky I have seen in quite some time. I clicked away and within 3 minutes all the color had gone, as the sun never once peeked from behind the clouds. This is why I got my ass out of that tent! Feeling energized it was time to make my way back to camp and get a fire started.
Jackie soon rose from the tent and breakfast never tasted so good. We grabbed our rubbish and headed to the ridge.
The day was much cooler, not sure if we would be climbing today. As we arrived at the East facing rock face we were surprised by the fact that the morning sun had warmed things up nicely and the rocks had blocked the vicious wind. GAME ON!
We were ready to climb and climb we did. The cold fingers made things tougher than usual but we enjoyed it just as much. As the sun started to get low in the sky, we packed up our gear and headed for a sunset shot. The clouds made for a disappointing shot, but we enjoyed the relaxing moments after the climb. I got a few shots of the rock then back to camp for more light painting!
Sunday morning.
Once again I rise out of bed well before dark but something is different this morning. Jackie is up with me. We pack up and hit the dusty trail towards our location.
As we stood over a large open pocket in the rocks, Jackie read a book and I ran around like a rabbit trying to compose my shot. "Relax" I tell myself. Slow down, find your shot. This is a common problem with photographers in beautiful locations. When there are great shots all around you it is hard to tell yourself to slow down and just line up your shot. I do and it is a waiting game from here. The full moon is out and the wind has gone away. Not to shabby. As the sun breaks the horizon Jackie and I get to work. We work the scene and enjoy every bit of it. Then we head back, eat breakfast and hit the climbing routes for one last climb.
As we throw our packs over our shoulders and start down the hill from the rock face, we are greeted by a man on the trail. He is a good-looking fellow with grey hair and a pack full of climbing gear (our kind of person). We start chit chatting and before we know it we are immersed in a story that happened 7 years earlier. Climbing a route beside one we had climbed the day before, a 3 foot by 3 foot boulder had come unlodged, sending his belayer (person holding his rope) on the run while he dropped from the sky. He landed face first on the boulder, rolled 20 feet down the hill where he smashed his head on some rocks and the boulder that had been chasing him stopped on top of his legs.
Without getting into the details (he did a much better job telling the story than I could ever do) his legs recovered while it took the rest of him much longer to get back. He had bleeding and swelling on the brain and had struggled for many years to get where he was today. Looking at the guy all that was left were a few small scars on his face. He was a man excited to get back on the rock. As he was telling the story he had to stop himself and apologize for sharing his story without asking us if we wanted to hear it first. We were so into the story at this point that we urged him to continue. It was an inspiring story of what it takes to come back from an injury. He showed us where it all happened and too our surprise, we had been sitting on the boulder that had fallen at the bottom of our route. Wow, what a way to enhance an experience.
Jackie and I said bye to the fellow and walked away with a greater appreciation for everything we had in our lives. Happy and content we hopped in the car and headed home.