A few weeks ago a good friend that I had met while attending college in Wyoming visited Jackie and I here in Saint Paul. I can only describe him as a very positive, amazing guy that is fascinated by the world around him. He said something that I will never forget. I am paraphrasing but it went something like this, "There are so many amazing things to see in the world, you should never have to do the same thing twice." This quote rekindled a flame of adventure and self exploration in Jackie and I that hadn't burnt out, but had dimmed a bit with the routine of everyday life. We started to think about what really mattered in our life. What do we want our lives to look like? For Jackie it was helping others, exploring mindfulness, going on adventures, and making tea. For me it was being creative every single day, building deeper relationships, and exploring the world. So begins a new adventure.
Zing Cha
Jackie has created a YouTube channel named Zing Cha, which basically translates to "Mindful Tea". Her channel is all about exploring the world of tea and it's deep roots to the eastern world as an avenue to explore mindfulness. So far we have produced two videos and I am here to share the BTS of how we went about creating these videos.
Zing Cha's very first video!
How to Brew Pu-erh Tea Mindfully
For the first video of many to come, Jackie wanted to share in long format form, how to brew Pu-erh Tea. This means showing the act of making Pu-erh Tea in it's entirety without cutting it down into a quick choppy video. Although attention spans are at an all time low, this channel is about mindfulness. The act of taking the time to sit and enjoy the warming of the bowls, rinsing of the leaves, and finally serving of the tea is a practice in mindfulness in itself. Jackie also asked that there is no music, just the ambient sounds that come from making tea. This would be a challenge for me as I have no previous experience with capturing high quality sound for video, but challenge accepted!
I went online and researched my options for a decent microphone to pick up the sound. I ended up purchasing this microphone to do the job. Shure SM58-CN Dynamic Mic.
This mic was plugged into a Tascam DR-40 4-track Digital Recorder to capture the audio and then edited using Adobe Audition.
The challenges faced:
#1 – I had no idea how to work with the Tascam Recorder.
#2 – I am an infant when it comes to playing with Adobe Audition.
#3 – We live 300 meters from Interstate I-94 so background noise sucks.
With these challenges before us, I turned to the only place I knew to turn for answers…. YOUTUBE. There I was able to get all the basic settings put together on the digital recorder, learn about microphone placement, and later find my way around Adobe Audition (what an amazing program!). While The audio isn't perfect, the goal is to improve with each video we produce. With this in mind, I feel like we have have established a good starting point.
So now that we have the audio figured out, the next step was to set up the cameras, get Jackie ready, and begin!
Making "How to Brew Pu-erh Tea Mindfully"
With everything set up and ready to go, I hit record on all 3 cameras and the digital recorder and away we went. Jackie took the stage and began to brew Pu-erh Tea. It was really fun watching her work from behind the camera. I sat back and shot a close up angle of the action using a long lens while I listened to the sound of the tea being made through headphones attached to the recorder. Two cameras shot static video while I added motion with the third camera and the long lens. In case you are wondering about the equipment I was using, it goes like this.
Camera 1 -Nikon D7000 with a 70-200 Sigma Lens.
Camera 2- Nikon D5100 with a 17-50mm Tamron Lens.
Camera 3 – Nikon Coolpix P7800 with built in lens and Rode Mic attached.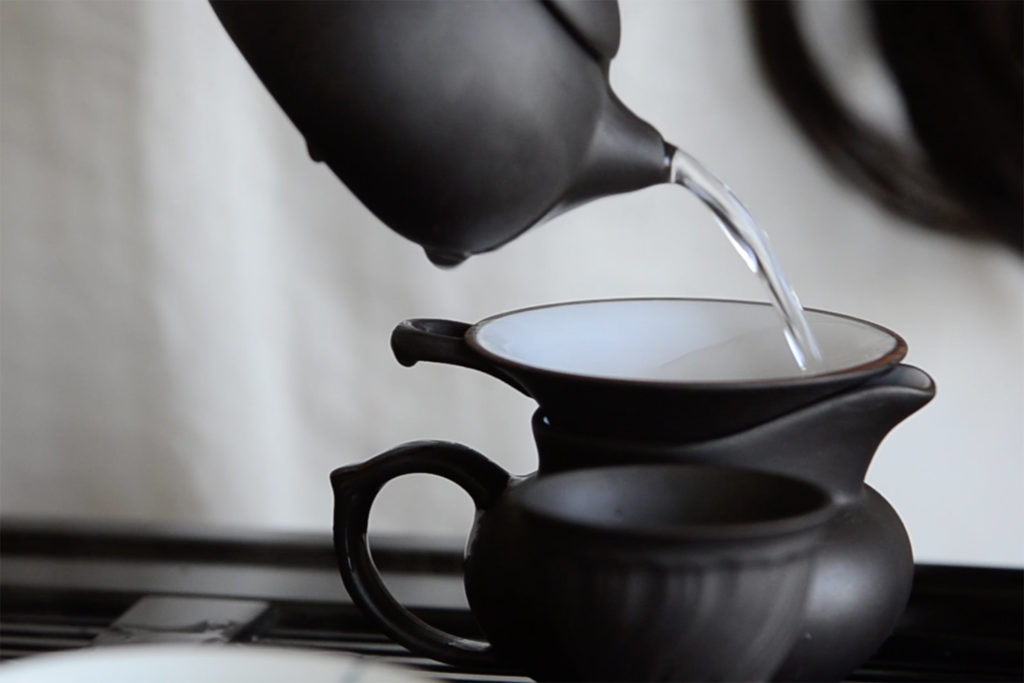 The next step was to bring the footage into Adobe Premiere and start editing. I started by placing the audio into the timeline and then lining the footage from all three cameras on top of the audio. Once everything was lined up I started the process of building the video through the different shots captured and editing the audio using Adobe Audition. Keeping to a very minimal theme, I finished it off by adding some informative text and hit export. The first video was born!
Video #2!
Savor the Moment
What is Zing Cha all about?
The way this channel will work goes something like this.  Jackie will alternate between teaching how to brew different types of tea as she learns them and implements them into her tea brewing lexicon, and exploring mindfulness while brewing tea. This means for each kind of tea there will be at least two different kinds of videos produced. The first is a clean long form how-to video, followed by a more creative explorative video. So for Pu-erh Tea, we will now visit the second video labeled, Savor the Moment!
Making "Savor the Moment"
This video was an adventure. Jackie and I packed up a minimal amount of Tea producing equipment, I grabbed all my camera gear and we drove over to Afton State Park near Afton, Minnesota. As we pulled into the parking lot and hopped out of the van, the wind about took our hats off. I was a little concerned. Audio doesn't work very well in conjunction with wind noise. Undeterred we started hiking down the bluff towards the St. Croix River to get down and out of the wind. The weather was chilly and we were a little underdressed but it was too late to turn back now. We hiked all the way down to the river's edge and set up on the roots of an old tree that had been worn down by years of water, wind, and little critters. I was inspired by the setting. The old distressed wood of the tree, the sand and rock on the beach with the River and Wisconsin bluff in the background holding onto the remaining warm light from the setting sun. Jackie took her position in the tree roots and set up her tea set as I assembled the cameras and microphone to capture the art of making tea.
Time to Brew!
The first step to making tea is to boil up some water. We just purchased a Solo Stove that burns twigs to make heat so we took it on it's maiden journey in this video. The thing worked great. Jackie was a little over ambitious and smothered the fire with a massive amount of twigs at first, but once we restarted the fire we just slowly fed it sticks and it quickly boiled the water that Jackie used in the video. Not only did it work great but it looked cool in the video.
This second video is a bit of a juxtaposition to the first one. In the first video Jackie demonstrated how to Brew and serve Pu-erh Tea using a full Tea set in a controlled setting, while in the second video Jackie used fire to boil water and a minimal tea set to brew the tea out in nature. It goes to show that the principles are still the same. The Tea leaves used, water temperature, and brew time are what matters for taste, and being mindful of the entire process is what is important for the soul.
After the video was completed Jackie and I sat and slowly sipped on the hot tea while we enjoyed the last of the light as it faded West.
The following day we sat on our couch, I set the microphone in front of Jackie and started to ask her questions about Pu-erh Tea, her memories of it, and mindfulness. With the audio captured I was ready to make a video.
For this video I took creative liberties. I chose the music, cut Jackie's audio from our conversation, and used the footage from the night on the river to tell an inspiring story about mindfulness using tea brewing as a backdrop. With Jackie's help the video came to life.
Thanks for Watching
These videos have their challenges but seeing the finished piece is the reward that makes them worth the work. I am excited to see where Jackie takes Zing Cha in the coming weeks, months and years, and I am pumped to be able to keep creating something new every day!
Thanks for reading and watching and remember to "Savor the Moment".